How To Contents
1 How to Root Samsung Galaxy S10e/S10/S10+ (Exynos & Snapdragon)
1.1 Steps to Unlock Bootloader on Galaxy S10 smartphones
1.2 Steps to Root Galaxy S10 using Magisk Manager
Samsung's latest Galaxy S10 lineup is one of the best smartphones which you can buy right now. All three smartphones come with a perfect price-to-performance ratio offering features like ultrasonic in-display fingerprint sensor, punch-hole front cameras, triple rear cameras and plenty of storage. Apart from this, Samsung has also added dual-layer security to its latest flagship trio which makes it hard for users to do modifications.
With Android Pie offering better security and Samsung's own dual-layer security, rooting Galaxy S10 trio is one heck of a hectic process. No worries, since we were able to find a method through which you can easily root Galaxy S10 smartphone without running into any major problems. So, if it's something which you're looking for then you might want to follow the below guide.
Root Galaxy S10 Exynos Snapdragon Variant with Magisk Manager
As we know that Samsung Galaxy S10 comes in two different processor variant with one having Exynos chipset while the other flaunting Snapdragon. In this article, we're going to see how to root both Exynos and Snapdragon-powered Galaxy S10 using Magisk Manager. With the steps given below, you can root Galaxy S10 Snapdragon and Exynos both.
Note: We will not be responsible if you ended up bricking your device. So, proceed at your own risk. Follow the below steps in the same manner to avoid such bricking issues.
How to Root Samsung Galaxy S10e/S10/S10+ (Exynos & Snapdragon)
Before we start rooting our Galaxy S10 smartphone, we need to unlock the bootloader. Here is how you can do that.
Note: Unlocking boot-loader will wipe your entire data so we recommend taking a full device backup just in case something goes wrong. Also, make sure that your phone has at least 50% of juice. Lastly, unlocking boot-loader will void your warranty.
Steps to Unlock Bootloader on Galaxy S10 smartphones
Step 1: Go to Settings >> About Phone >>Software Information and tap on Build Number 7 times to enable the developer option on your device.
Step 2: Once enabled, go back to Settings and open up the Developer Options menu.
Step 3: Inside developer options, you will find the OEM Unlocking. Enable it.
Step 4: Now, shut down your device and enter the Download Mode. To do that, press and hold Volume Down Button + Bixby Key together.
Note: You have to do this step while connecting your phone to PC via USB cable.
Step 5: Once you entered in Download Mode, long-press the Volume Up key to unlock the bootloader. This step will wipe your phone entirely and will reboot it to the system. There's no need to set up your phone entirely since during rooting it will be formatted again. Do make sure that you're connected to the internet.
Step 6: After entering the home screen, you have to enable the developer settings again as shown in step 1. Once enabled, head over to the developer options and find the OEM Unlocking. OEM Unlocking should be greyed out with its toggle in the enable position.
Your device's bootloader is now unlocked and you can install unofficial images like Magisk and Custom Recovery.
Steps to Root Galaxy S10 using Magisk Manager
Step 1: Download the Magisk Manager Canary Version for Galaxy S10. Once downloaded, install the APK file on your device.
Step 2: Now, download the latest firmware for your respective Galaxy S10 device from below. Make sure you only go with the country/carrier firmware as long as the firmware matches else you might end up with some serious issues on your device.
Step 3: Once downloaded, extract the firmware zip file. You should get a folder with a bunch of files.
Step 4: Before we proceed further, you need to download ODIN & Samsung SUB Drivers. Unzip the Odin file and install the Samsung USB drivers.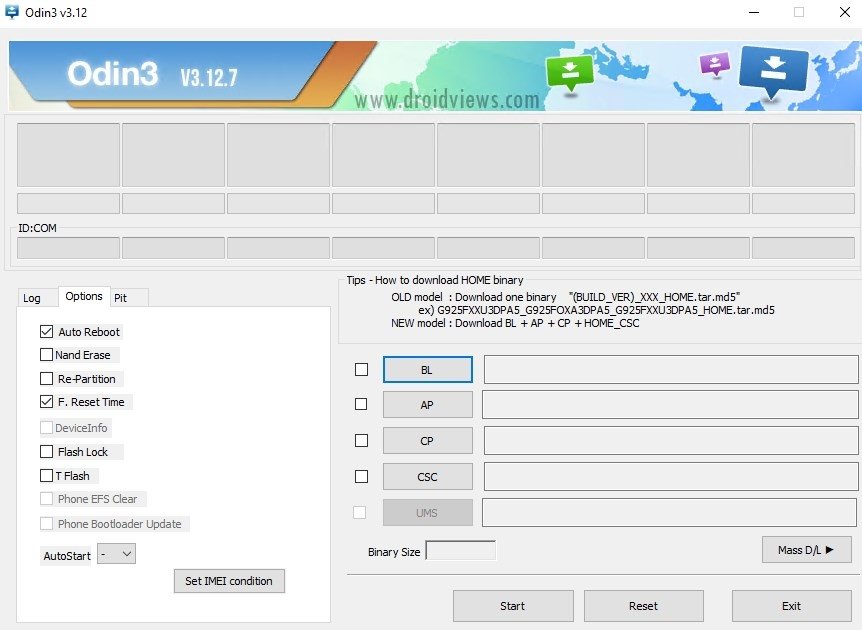 Step 5: Copy the firmware file starting with "AP" under the firmware folder to your phone. Copy the file inside the Download folder on your phone.
Step 6: Open the Magisk Manager on your phone and hit the Install button. Tap on "Select and patch a file" button. This step is important as it will patch Magisk root to your device's firmware so that you can flash it with Odin later.
Step 7: Choose the firmware file which you previously copied to your phone and let the Magisk Manager do its magic. This step should take a minute or two.
Step 8: Once done, go back to your PC and open the Galaxy S10 >> Phone >> Download. Copy the "Magisk_Patched.tar" from the phone to the Download folder of your PC.
Step 9: Now, Power off your phone and reboot it into Odin Mode (or Download Mode) by pressing and holding Volume Down and Bixby Key together. Hit the Volume Up key once you're entered into the download mode.
Step 10: Now, fire up the Odin software on your desktop and you should see a blue-highlighted box with a random COM number. If you don't see this, then you need to install the Samsung USB drivers which you downloaded in Step 4.
Step 11: Choose AP in the Odin software and select the "Magisk_patched.tar" file. Also, go into the options on the left corner of Odin software and uncheck the Auto Reboot. After unchecking it, hit the Start button.
Step 12: Once you see the Pass text on your Odin software, you can then disconnect your device from your desktop.
Step 13: Press and Hold the Volume Down and Power Key together to reset your Galaxy S10. As soon as you see the screen go black which means your phone is now reset, you have to enter into the stock recovery mode by holding Volume Up, Bixby Key and Power Button all together.
Step 14: Inside the stock recovery mode, select "Wipe data/ Factory Reset" using Volume and Power keys. This will wipe everything on your phone.
Step15: Once wiped, hit the power button to reboot your phone. You can now set up your phone entirely.
Step 16: After setting up your phone, you should see Magisk Manager. If you don't which is quite common, all you have to do is Power off your phone.
Note: There's a catch here while rebooting your phone. If you normally Power On your phone by pressing the Power button, you will not get the Root access. Instead, you will have to turn on your phone by pressing and holding Volume Up, Bixby Key and Power button every single time. Whenever you need root access, you'll have to boot your phone using this method.
Once rebooted you will not be able to see the Magisk Manager app on your phone meaning your Galaxy S10 now has root access.
Android Architect 2020