Samsung's Galaxy Note 8 looks similar to the S8 Plus, and has similar specs to the S8, but has a few tricks up its sleeve. The S-Pen is improved, new software features add useful functionality, and there are now two rear-facing cameras.
---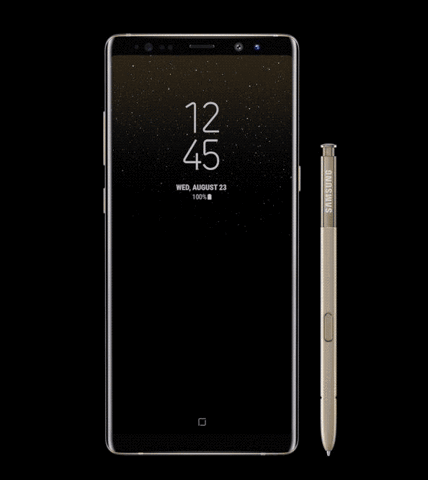 The Samsung Galaxy Note 8 is a 6.3 inch flagship device with its smooth and sleek design, curved gorilla glass display which just bends around the edges, iconic s-pen with some impressive feature rich capabilities, iris scanner, embedded fingerprint scanner, wireless charging, USB-C port, headphone jack, dedicated Bixby button, power button and volume controls.
SPECIFICATIONS
| | |
| --- | --- |
| Operating System | Android 7.1.1 with Samsung Experience 8.5 |
| Size | 162.5 x 74.8 x 8.6 mm, 195g |
| Display | 6.3-inch Super AMOLED QHD+ (2960×1440, 521ppi) |
| Processor | Qualcomm Snapdragon 835 in US, Exynos elsewhere |
| Memory | 6 GB |
| Storage | 64 GB in US, 128GB/256 GB available elsewhere |
| Rear camera | 1x 12-megapixel wide angle (F1.7), 1x 12-megapixel telephoto (F2.4). Both with Optical Image Stabilization |
| Front camera | 8-megapixel auto-focus (F1.7) |
| Battery | 3,300 milliamp-hour |
| Connectivity | 802.11 ac Wi-Fi, NFC, MST, USB-C, Bluetooth 5.0 |
| Colors | Black or Gray in US. Blue and Gold elsewhere |
---
Design
Based on the mock-ups, it looks like the Galaxy Note 8 will have a similar design to the Galaxy S8. It'll have the S8's new "infinity" display with ultra-narrow borders, rounded display corners, a tall aspect-ratio display, and a dual-lens camera system.
As is typical of Samsung's Note devices, the Note 8 will likely have a larger display than most other Galaxy S devices. Supposedly, the Note 8 will have a 6.3-inch display, which is only slightly bigger than the S8+'s 6.2-inch display. The Note 8 will also likely come with its signature stylus for note-taking and other Note-specific features.
It also looks like the Galaxy Note 8 will also come with the same controversial feature from the Galaxy S8: a dedicated button for Samsung's Bixby AI voice assistant.
Camera
Adding a secondary camera to the Note 8, Samsung has included some new features that set it apart from how Apple or OnePlus has implemented a second camera. Both cameras have Optical Image Stabilization (OIS), whereas the standard thus far has been for only the main camera module to have OIS. For instance, the standard wide-angle camera on the iPhone 7 Plus has OIS, while the telephoto camera does not. By adding OIS to both cameras, the Note 8 should capture clearer photos and videos regardless of which camera was used.
Live Focus is the name of Samsung's depth-of-field feature. With a subject roughly four feet away from the camera, the Note 8 uses both cameras to capture depth information and then blur the background, commonly referred to as bokeh. When done right, a bokeh can turn a standard picture into something you're proud of.
With more expensive cameras, the bokeh is reliant on hardware. For smartphones, the same feature relies on a mix of hardware and software. Because of that, results can be mixed.
With more expensive cameras, the bokeh is reliant on hardware. For smartphones, the same feature relies on a mix of hardware and software. Because of that, results can be mixed.
With more expensive cameras, the bokeh is reliant on hardware. For smartphones, the same feature relies on a mix of hardware and software.
With Samsung's Live Focus feature, you can adjust the amount of blur used on a photo before and after it is captured. This is handy, especially in situations where the software has a hard time identifying the edges of the subject – most common when the subject and the background share similar colors.
Another neat feature Samsung has added thanks to the dual cameras is called Dual Capture. When taking a Live Focus photo, both lenses capture a photo and save it. Instead of having just the close-up photo to share, you also have a wide-angle shot you can use.
Dual Capture is an optional feature and can be enabled or disabled with each photo.
With the Note 8, Samsung took the already superb camera of the S8 line and gave it a healthy upgrade. I have no complaints about the camera's capabilities on the Note 8.
Software
Samsung made it a point to remove TouchWiz after it gained a reputation as bloated software. Replacing it with "Samsung Experience" version 8.5 which is now installed on the Note 8, S8 and S8 Plus.
With the latest software tweaks, the Note 8 has some features that are exclusive due to the S-Pen, while others will eventually make their way to the rest of the Galaxy line. Samsung couldn't provide a timetable on when features like App Pair or Live Messages would show up on other Samsung devices.
App Pair is one of those features that make you ask why no one else has implemented it yet. With multi-window mode now standard across all Android 7.0 devices, a variation of Samsung's App Pair feature only makes sense.
With App Pair, users create a shortcut containing two apps, that when activated will launch in multi-window support. For example, Chrome and YouTube, or Calendar and Gmail, make sense as an App Pair.
Live Messages, another new feature, is found after removing the S-Pen in the Air Command menu. Using the pen, you can draw or write messages that you can then share through any messaging app. The Note 8 records the drawing in real time, then converts it to an animated image, or GIF, the recipient can view. The feature is very similar to Apple's Digital Touch messaging feature in iOS. Only instead of being limited to sharing only with Apple users, Live Messages works more or less everywhere.
Screen-off memos have been on of my favorite features of the Galaxy Tab S3, and, yes, even the Note 7. With the Note 8, Samsung expanded its capabilities, by adding a 100-page limit.
Performance
The spec sheet of the Note 8 is the same spec for the Galaxy S8 line. The most notable changes outside of overall size, involve the additional camera, battery size, and increased RAM. The Note 8 uses the same processor, same 64GB of storage, and same resolution display.
As for the battery, the Note 8 is equipped with a 3300 milliamp-hour battery, which is smaller than the Galaxy S8 Plus's 3500 milliamp-hour battery despite having a bigger housing.
Samsung used a smaller battery and added guard rails around the battery to better protect it from drops, and new software algorithms will better monitor rapid charging and depletion.
Battery life on the Note 8 is just enough to get through a full day of use. It's not quite on par with what I can get from my Galaxy S8, but it's close. With an extra 6GB of RAM, I noticed apps weren't stopped in the background as often as on the S8 which has 4GB of RAM.
Written by Android Arcitect September 2020