Key Specifications
Pros
Stunning display
Dex mode improves the tablet UI
S-Pen included
Build quality
Android Pie 9.0
Samsung's One Ui 2.1
Features
10.5-inch HDR Super AMOLED display
Optional keyboard cover
Snapdragon 835, 4GB RAM, 64GB storage
Expandable via microSD
7300 mAh battery, USB-C, Fast Charge
S-Pen included
Dolby Atmos
Dex + linux support
Portable Development workstation
What is the Samsung Galaxy Tab S4?
On my first impression after unboxing I was very impressed with Samsung's choice of smooth glass back, a front all-glass screen with corner rounded edges which gives this device an ere of quality, and cher brilliance when holding in the hand. Around the metal sides, you'll find a volume rocker, standby switch and a set of POGO pins for connecting up the Book Keyboard Cover, which is sold separately. A USB-C port sits along the bottom edge, flanked by a 3.5mm headphone port.
Samsung Galaxy Tab S4 – Software
With the Apple iPad dominating the market share of the tablet space running iOS, Android tablets haven't always had the refind, fluid software interface as iOS but, with every software implementation & update from Google and Samsung the user experience improves, functionality gets better and more intuitive and with Oreo 8.0 – Pie 9.0 this makes a better product running android.
Samsung has taken its new Dex Ui interface from the galaxy Note8/9 and ported it to the tab s4 which simulates another windowed style Linux operating system. The Dex UI's strength lies in its windowed interface, which means you can have a few apps open at once. Being able to open Spotify and YouTube, along with Docs, Sheets and a calendar at once, with them all visible, is truly great for productivity.
Dex is enabled by a toggle in the quick settings menu. Tap it and, after a couple of seconds, the Windows-Esque desktop will appear. Along the bottom, you'll find the usual Android soft-keys plus a selection of running apps and a taskbar incorporating the date, time and other settings. Apps can be dragged anywhere on the desktop, but there's no support for widgets. When you open up an Android app in Dex, it appears as a phone-sized window.
You can drag this around and open multiple windows at once, or switch to a full-screen view. Dex is far better than the standard Android tablet view. Switching back to the regular home screen shows how unproductive tablets are in general. Putting apps side-by-side is clunky, and having Android fill the whole display just feels a waste of space. Dex is far from perfect (yet), but it solves many of these issues.
Samsung Galaxy Tab S4 – Design
There's a whole lot to like about the Tab S4, its design and build quality looks exceptional for a tablet. The Samsung Tab S4 is as high-end as you can get: a fast processor, a gorgeous HDR OLED and the S-Pen included. It holds up to be an impressive portable Android interface with some smart software choices. The device is thin and light with no noticeable weight gain, and holding it in my hand whilst scribbling some notes comfortably without feeling any strain. The rear is clean all glass, with a camera and flash, Samsung branding and a 'Tuned by AKG' logo. The tablet comes in two colour choices, a glossy premium jet black, or a misty whitey/grey version which looks stunning, similar to the Samsung Galaxy s10/10e colour.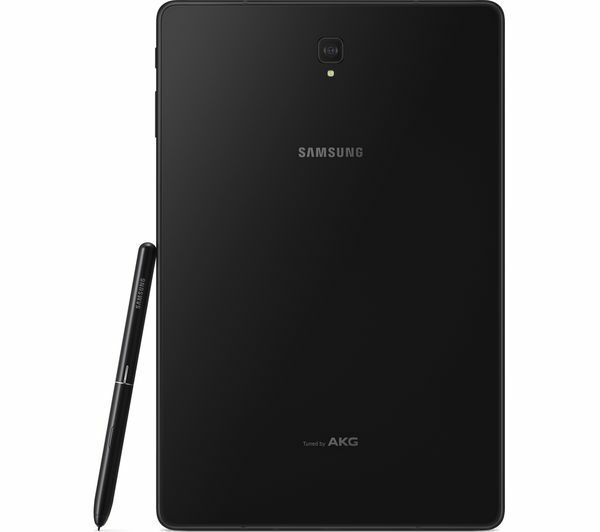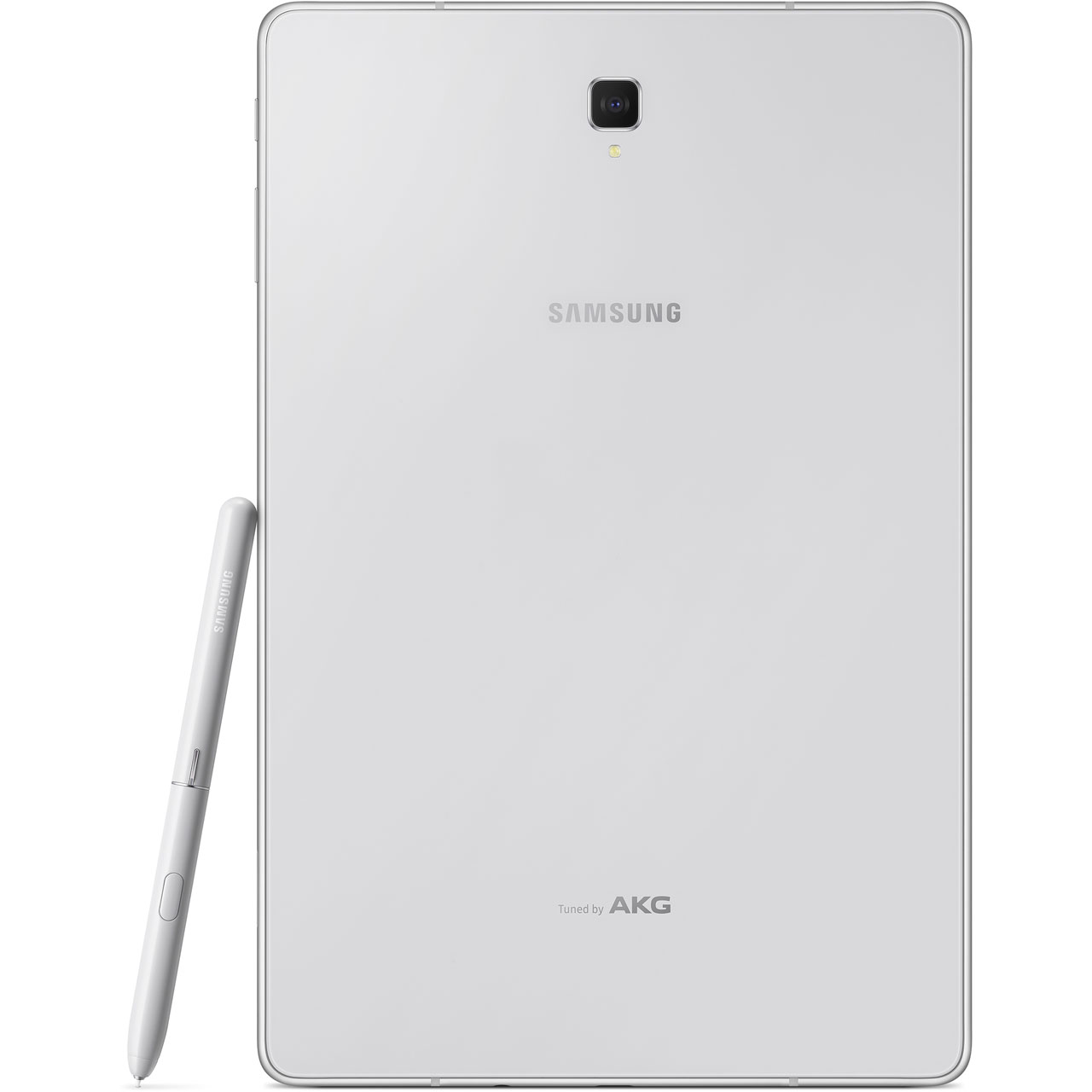 Samsung Galaxy Tab S4 – Display
The screen on the Samsung Galaxy Tab S4 is utterly gorgeous, and right up there with the iPad Pro 10.5 for having the finest display on any tablet you can buy right now Samsung's big win over Apple is the use of OLED tech, opposed to IPS LCD. OLED is used in some of the best TVs we've reviewed this year, and it allows for perfect blacks and striking colours. The panel is HDR-enabled for apps such as Netflix and Prime Video, and it packs a high resolution of 2560 x 1600. Really, it ticks all the boxes. For watching movies on-the-go there's simply nothing better. Colours are punchy and bright, viewing angles are wide enough for a couple of people to watch simultaneously, and there's a good hit of brightness. I did find myself increasing the brightness to 100% when travelling outside or on the train in the morning, but turning things down to about 60% indoors is fine also.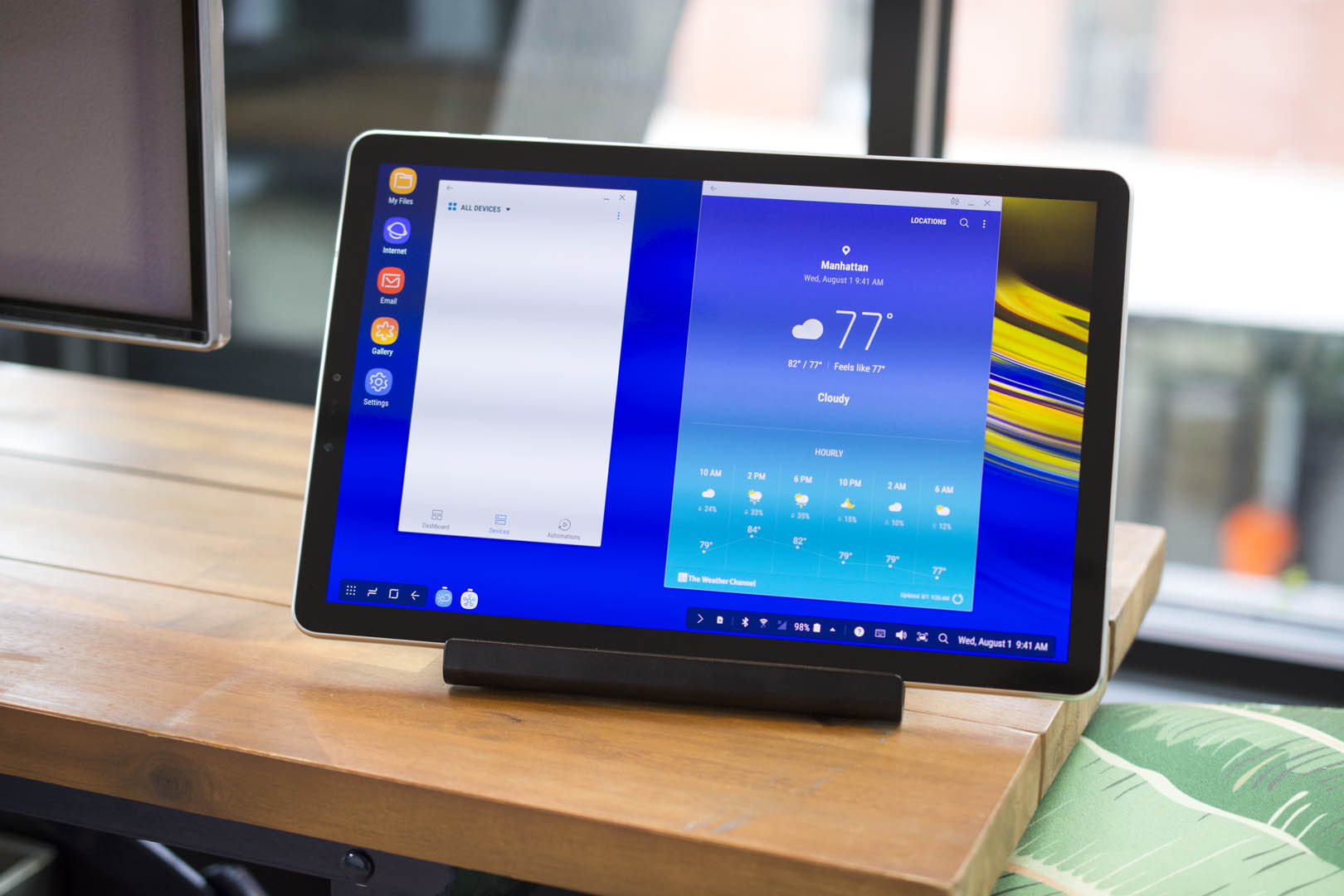 Galaxy Tab S4 – Performance
Inside the Galaxy Tab S4, there's a Snapdragon 835, 4GB of RAM and, in the UK, 64GB of storage (some regions will get a 256GB option too). A MicroSD slot is included, so you can expand that further. Enabling the Atmos setting does result in a fairly decent faux-surround feel. There are four speakers on the Galaxy Tab S4: two along the bottom and two on the top. Each has been 'tuned' by AKG – a brand owned by Samsung – and they're capable of pushing out Dolby Atmos audio.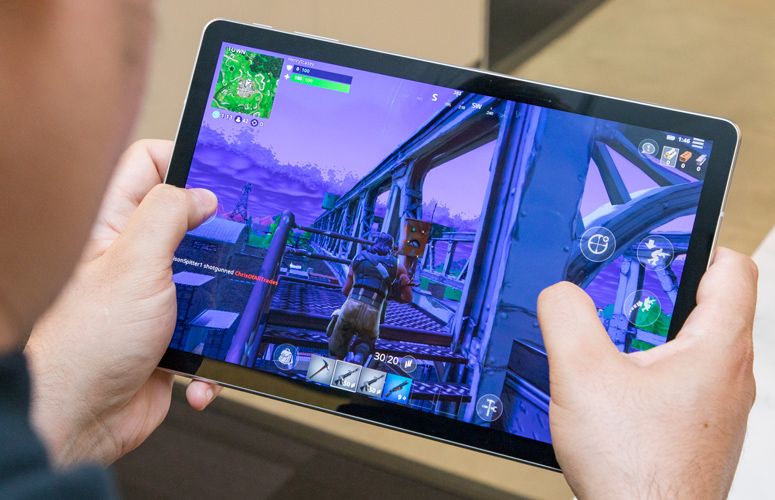 Galaxy Tab S4 – Battery life
Inside the Galaxy Tab S4 you'll find a 7300mAh battery, which is a decent increase over the 6000mAh cell from the Tab S3. A fast charger is included in the box, via which you'll be able to get from 0% to 100% in a couple of hours. From a general users perspective the SOT "screen on time" is respectable, the use of the Samsung pen is a handy inclusion for productivity and the interaction of Samsung dex.
Conclusion…
Well, my experience has been quite refreshing as far as Android tablets go, having used Samsung tablets previously i.e Tab S3 there are significant changes and noticeable improvements, the display, S-Pen, Samsung Dex, One Ui just to mention these alone is worth the purchase, if you are looking for a premium Samsung productivity device in this form factor. There is stiff competition from the Apple iPad Pro 10.5 but, Samsung Dex gives the Tab S4 a forward thinking approach for wanting to do more on the go, and all without a computer.
The Android Arcitect